16th May 2015: Mop 1 won by 23 runs, by Ian Rodger

On a miserable 16th of May, Hengelo 2 was taking on MOP 1 in a 40-over game.
The decision from the toss was that Hengelo was fielding in the first innings, which promised to be an interesting task on the wet outfield and constantly changing weather. Wind, rain, hail and sunshine were all seen during the game, but now on to the match. MOP's openers got them off to a good start by scoring 38 runs in 8 overs. Harm got the wicket of one of the MOP openers after a great catch by Ragu. MOP, however, continued to score and added another 30 runs before Diederik claimed the next wicket; bowling the batsman for 36.  MOP's 3rd wicket fell soon after, with Harm and Johan combining to remove him. Next, Diederik bowled MOP's number 3 batsman for 57. This did not mean that the scoring slowed down at all. MOP's number 5 batsman hit a hard-hit 104, which he reached with a last ball six! This led to a first innings score of 258 for MOP. Our fielding could use some improvement seeing as 3 catches were dropped during the innings.
After a nice lunch and some improving weather, Hengelo looked to chase down the target with Diederik and Aditya N as openers. They combined for 14 runs in 4 overs before Diederik was run out for 8. This brought Eduardo to the crease at number 3. Aditya N was the next batsman out for 20, with the total score on 60. Johan was our batsman in at number 4. Unfortunately he could only add 5 runs to the total. Eduardo on the other hand just kept on scoring. He was joined by Harm, who batted for a well-made 18. Eduardo had reached 93 by this stage and all of the supporters were hoping he would go on to reach his century. John joined Eduardo in the middle and was still there when Edoardo hit his maiden century for Hengelo. He finished on 114 not out. We ended up scoring 215 runs, so unfortunately we lost the game to MOP. It was, however, an enjoyable game played in the right spirits. Highlights were the centuries for S. Svitzer for MOP and Eduardo for Hengelo. Next week on Saturday, we will be playing Salland 2 in Deventer.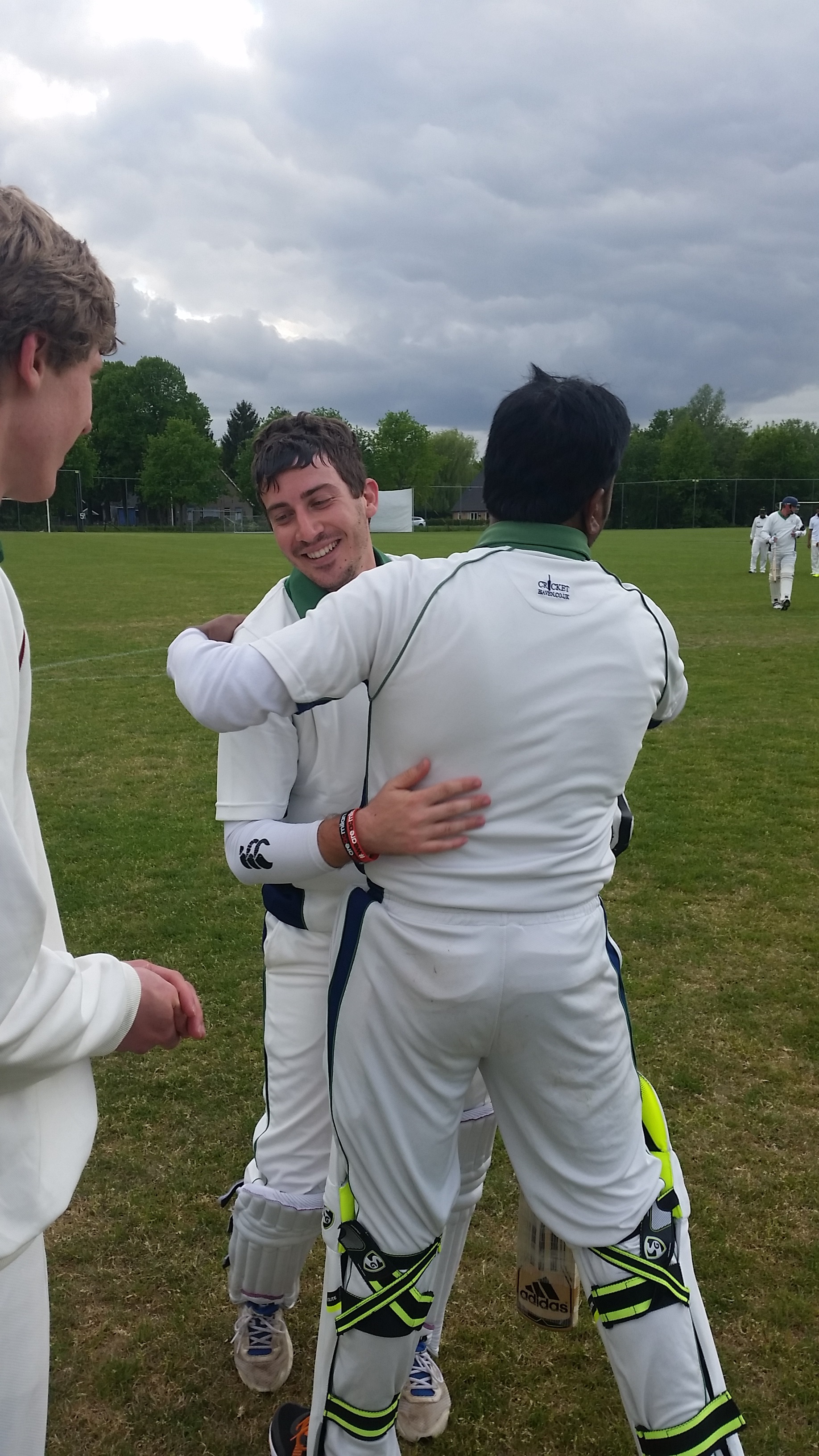 Edoardo is congratulated on his century
by a happy captain (Raghu)