22nd May 2016: Hengelo 1 won by 8 wickets, by Krishna T.C. Kumar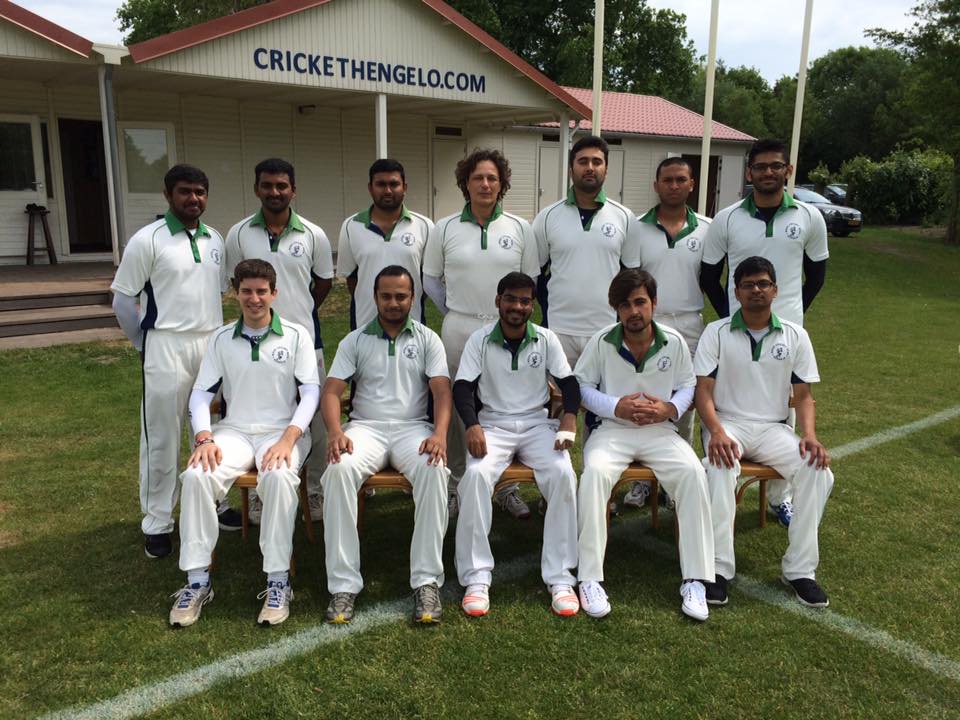 A team photo before the start of play! Everybody in their brightest whites!
 "It was indeed nice weather for cricket" if I had to explain the weather in Dutch terms, though it was just cloudy with glimpses of sun and warmth until the toss. This was the second match for both Hengelo and Quick, the latter arriving with 10 players. The teams were equipoised with the same number of traitors on both sides [Prithvi having left Quick for Hengelo and Pramod filling in for Quick; thank you Pramod - editor]. Rahim, at last, broke his toss-losing jinx [in only his second match - editor] and the momentum and positivity began mounting up for team Hengelo right away. Having asked the away team to bat first, the Hengelo captain led the team from the front by providing the first breakthrough of the day; dismissing his opposite number [Salim Mohammad - editor] for a duck. Akshay, bowling from the other end, picked up two wickets in successive overs which left the visitors at 35 for 3 in 8 overs. Quick had their highest partnership for this match for the 4th wicket, which was 37. Theo Straten was looking dangerous until Edoardo pulled off an excellent catch at point to dismiss him. The pacers had done a fine job in eliminating 4 of the top 5 batsmen and it was left to the spinners to deal with the rest, which they did in style. Edoardo and Krishna split the rest of the wickets equally and ended up picking 3 wickets each. Though they were some misfields and dropped catches, it was not too worrying as the visitors were restricted to a total of 118.
With a target of 119 on the board, it was now left to the batsmen to chase it down for Hengelo. The way Abhishek handled the situation, with fierce straight drives and pulls right from the start, it seemed as if the hosts were chasing a target of 300. He was on to the bowlers from the very beginning, which forced the opponent captain to make frequent bowling changes. Erik, at the other end, supported him really well with a couple of boundaries through the extra cover and square leg regions. They had added 73 in 12 overs when Abhishek was bowled in a bizarre way off H. Butt's delivery. In the same bowler's next over, Erik was also dismissed in similar fashion. The openers were out on 41 and 26 respectively. With less than 40 runs remaining, Edoardo and Adithya were set for the final part of the run chase. Supported by Adi, Edoardo did a neat job by sealing the first victory for Hengelo this season.
Overall it was a neat effort and Hengelo looked a better team in this match in all departments of the game. Hope the winning streak continues for Hengelo.